FLEETWASH offers High Dusting to keep your facility looking new and your customers and employees safe from air pollutants.
Dust and grime build up over time, making your facility look dingy and dirty. ESPECIALLY high, hard to reach areas.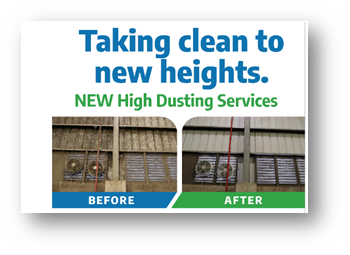 FLEETWASH can help!
Our professional crew of cleaning experts can get the hard to reach areas of your stores, offices, and warehouses – no matter what the height!
Remove dust, bugs, carbon build up and HVAC residue
Improve air quality
Eliminate unhealthy allergens
Improve your image - with a crisp, clean look
Why FLEETWASH?
✅ Experience - FLEETWASH services businesses high dusting and cleaning needs from Coast-to-Coast
✅ Expertise - FLEETWASH has the equipment, lifts, poles, brushes and soft cloth cleaning to reach and clean high areas without damaging surrounding areas.
✅ Safety - FLEETWASH takes every precaution to ensure the safety of their crew, our clients and people in the areas. Crew members wear proper safety equipment and PPE when appropriate.