At FLEETWASH, we C.A.R.E.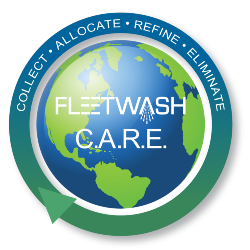 The UN's 2017 World Water Development Report identifies wastewater is an important, undervalued yet reliable alternative water resource for nutrients and useful by-products.
That's why our proprietary C.A.R.E. water recovery system is so innovative and essential. We safely process and eliminate over 6,000,000 gallons of wastewater each year!
NEW! Organic Soap Options
FLEETWASH now offers a full line of organic soap options in addition to our biodegradable cleansers and degreasers!
C.A.R.E. water recovery, coupled with our organic and eco-friendly soap options, ensure a truly GREEN Clean. These efforts are part of our long heritage of ecologic responsibility, and our promise to help protect our planet's precious water supply.