Legionnaires Disease and Your HVAC System
FLEETWASH Company Blog
July 22nd, 2019 @ 12:00:00 AM CST by
FLEETWASH
---
Legionnaires Disease is On The Rise: Should You Be Afraid of Your Water Cooling Tower?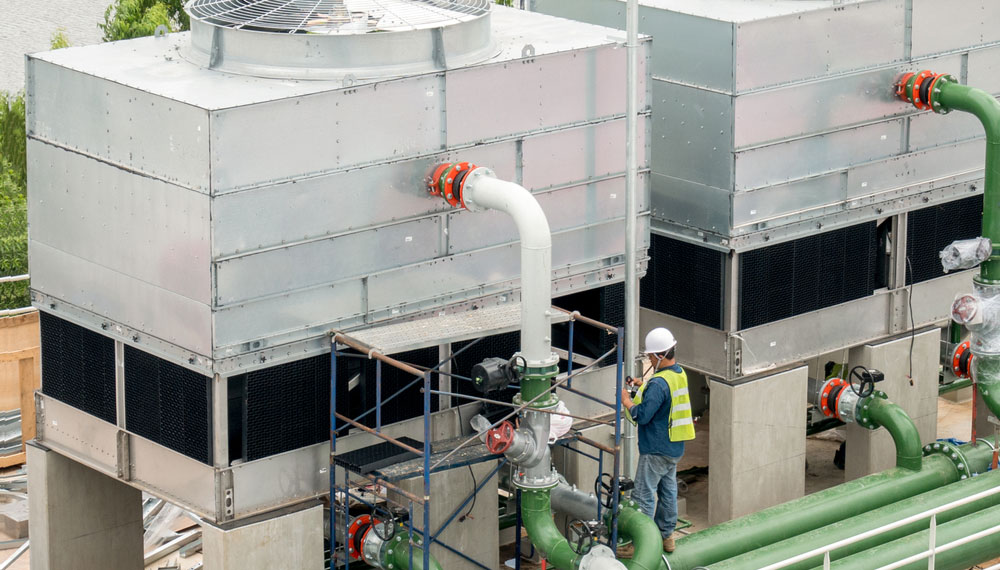 Reported cases of potentially deadly Legionnaires' disease have increased nearly five and a half times since 2000. Almost 7,500 cases were reported by health departments in 2017.1 What's more: one report estimates that 84% of US cooling towers contain Legionella bacteria.2
The uptick in incidence is clearly cause for concern, but you may be wondering, "What on earth is Legionnaires' disease, and what does it have to do with cooling towers?"
Legionnaires' disease
Legionnaires' disease is a severe form of pneumonia caused by Legionella bacterium. The disease develops two to 10 days after exposure to the bacterium, and causes severe symptoms that may include headache, muscle pain, chills, high fever, cough (producing mucus and sometimes blood), shortness of breath, chest pain, gastrointestinal symptoms, and confusion. Legionnaires' disease can be fatal if not treated effectively or promptly, especially in those with weakened immune systems.
Legionnaires' disease is not contagious and therefore cannot be passed from person to person. Rather, the infection is caused by inhaling Legionella bacteria.3 This is where cooling towers come into play.
Cooling towers and Legionnaires' disease
The warm, wet environment within cooling towers coupled with the heat exchange process involved in heating the water provide the perfect conditions for heat-loving Legionella bacteria to grow and thrive. 
Heat and evaporated water misting from a cooling tower can be dispersed for miles. If this mist is contaminated with Legionella bacteria and inhaled by the surrounding population, Legionnaires' outbreaks occur.4  
Proper disinfection and maintenance of cooling towers is essential to keeping the surrounding environment free from dangerous Legionella bacteria. Professional maintenance from a trusted and reputable company like FLEETWASH can help ensure your cooling tower remains clean and safe for your employees and the surrounding population. FEETWASH is equipped to service and clean all parts of your rooftop HVAC system: evaporator coils, coiling coils, water cooling towers and all the parts in between. 
If you feel your water cooling towers could be at risk, give FLEETWASH a call today or request a free quote.
References:
1. Centers for Disease Control and Prevention. Legionella (Legionnaire's Disease and Pontiac Fever). History, Burdens and Trends. https://www.cdc.gov/legionella/about/history.html. Accessed June 17, 2019.
2. Llewellyn, AC, Lucas, CE, Roberts, SE, et al. Distribution of Legionella and bacterial community composition among regionally diverse US cooling towers.PLOS One. Published December 20, 2017. https://journals.plos.org/plosone/article?id=10.1371/journal.pone.0189937. Accessed July 22, 2017.
3. Mayo Clinic. Legionnaires' disease.https://www.mayoclinic.org/diseases-conditions/legionnaires-disease/symptoms-causes/syc-20351747. Accessed July 22, 2019.
4. Centers for Disease Control and Prevention. Other Uses and Types of Water:Cooling Towers.https://www.cdc.gov/healthywater/other/industrial/cooling_towers.html. Accessed July 22, 2019.
Getting you clean while keeping you
GREEN
FLEETWASH started its washing operation in 1973. The need for a mobile service was evident in the quickly expanding transportation and distribution industry in the greater New York City area. Many spawning companies had growing truck fleets that all needed to be cleaned, and the original mobile truck washing idea took off and grew rapidly through the 70's and continued to grow into the 80's.